Thomas Molendini Marchese di Santa Magdalena nasce nel 1978, imprenditore nel campo della consulenza con uffici in Italia, Romania, Malta e UK, laureato in Scienze Bancarie; ha ricoperto anche ruoli Istituzionali come Rappresentante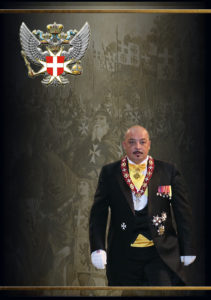 per il Mediterraneo con Sede a Malta della "Camera i Commercio ed Industria Governativa di Romania" e Responsabile in Romania della "GRTU MALTA Chamber of SMES" in un accoro bilaterale siglato presso le Istituzioni sia in Romania che a Malta.
MASTER conseguiti presso il Centre for International Public-Policy and Administration di Bruxelles in: GLOBAL ECONOMICS AND EMERGING MARKETS; THE EUROPEAN UNION IMPLEMENTATION OF SUSTENAIBLE DEVELOPMENT; REFORM OF EUROPE'S PUBLIC ADMINISTRATION; REFRAMING PUBLIC ADMINISTRATION AND PUBLIC POLICY IN A RISK SOCIETY e RISK MANAGEMENT IN THE FIELD OF PREVENTING AND COMBATING MONEY LAUNDERING.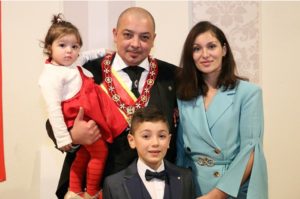 Creatore di "PROGETTO PORGI UN SORRISO", progetto che dal 1996 dedito all'aiuto all'infanzia disagiata, operando su tutto il territorio italiano, ma, anche in paesi come la Romania, Repubblica Moldova, Siria ed Egitto.
Entrato nell'Ordine alla giovane età di 14 anni nel 1992 con il titolo di Paggio, dopo circa 30 anni di esperienza, oggi arrivato al prestigioso incarico che ricopre in seno ai Ranghi del Nostro Sovrano Ordine di Luogotenente Gran Maestro.
Per volontà di S.A.R. Don Thorbjorn Paternò Castello di Carcaci nel 2010 riceve il Titolo Nobiliare di Marchese di Santa Magdalena della Real Casa Paternuense.